Discover more from mixed feelings
mixed feelings is a newsletter and obsessively-online community that deals in all things existential (and, in some cases, welcome respite from that). Subscribe, for all your multitudes.
wallet-friendly swimwear: it's what's for dinner
the very best swimwear under $80
this made me think of you is mixed feelings' audience-driven column dedicated to curating a digital window-shopping experience…just for you (selfishly). Respond to this email, dm us on Instagram, or comment below if there's something you'd like us to shop for. This week…affordable swimwear.
Picture this: your trip finally made it out of the group chat. The flight: $672. The stay: $489. Food budget: $350. Excursions: $324. Luggage: $120. Toiletry bag, travel pillow, portable charger, sunscreen, beach bag/hat/towel, etc. etc. etc. $$$ 
And now you have to shell out $150+ on a bathing suit? Nope.
Luckily, we put in the work for you, because we love you mfers. Here's a list of swimsuits for every size, shape, style, and mood, all around $80 or less, handpicked just for you. We chose our favorites based on our team's (we think) immaculate taste, but don't take our word for it — you might discover your own hidden gem in a brand you might not have thought about before.
Happy sunning,
Catherine Mhloyi, video @
minimal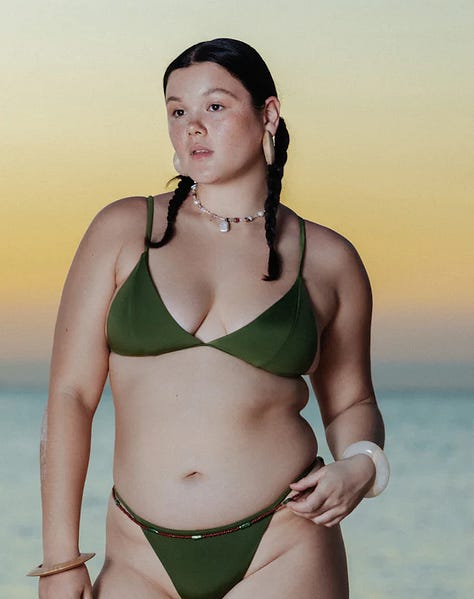 two piece:
one piece:
J Crew Ruched V-Neck One-Piece, $118 $69.50. Crew has sneakily re-entered the zeitgeist and with it has come… some decently size-inclusive swimwear? I'm partial to this one-piece in a variety of fun colors so you can pick your own poison. — Amalie
Old Navy Half-Zip One-Piece, $49.99 $45. You can finally live out your Kelly Kapowski dreams in this. — Catherine
fuller coverage:
TomboyX Swim Tank, $59 $28.99. Gender-affirming/gender-neutral swimwear! In a variety of sizes, styles, and levels of coverage. — Amalie
Honorable Mention: A swimsuit is, by definition, an article of clothing designed to be worn during water activities or sports so, if you ask me, a cycling jersey counts (see: triathlon). Primal Wear makes jerseys in incredible graphic and basic styles. Options abound on eBay which you can pair with board shorts. — Mi-Anne
maximal
one piece:
Wild Fable Cut Out One Piece, $32. This suit is for those of us who get two different flavors of gelato because they just can't decide on one. And, if "indecisive" is just generally your MO, it strikes a nice middle ground between a one-piece and a bikini. Air signs, just know that you are seen. — Catherine
H&M High-Leg Cut-Out Swimsuit, $39.99. So you can go from the beach to the function without changing. The rosette is also very SS23. — Catherine
Gabi Fresh Swim x Eloquii Ring Front Swimsuit, $149.95 $45. Gabi Fresh is a pioneer in the plus-size swimwear space, and a quick follow will point you in all the right directions. This wavy suit gives Paloma Wool, but at an incredible sale price. (Make sure you use the code!) - Catherine
Honorable Mention: These suits come in at just over our price limit, but we had to share this $84 plunge zebra-print suit and this Dazy Bikini top from queer-owned brand DYINSF that comes in at $50, but can be paired with $12 board shorts from eBay! — Catherine & Mi-Anne
two piece:
YouOnlyLiveOnes Crochet Bikini Set $39-$51. Dua Lipa went on a tropical vacation and wore so. many. bikinis. This one, though, was the star: a crochet Hello-Kitty themed set that retails for...$325. For a similar look (sadly, without our favorite cat girl) head to Etsy. You're not going to swim in these, but you will look so cute. — Mi-Anne
Rebdolls Nixie One Shoulder Swim Top, $34.90. Throwing this one in the mix because royal blue looks great on everyone. — Catherine
Good American Deep Cool Bikini Top, $39. I hate to say it, but Khloe makes a pretty good swimsuit at Good American. I don't own this exact one, but the price is right, as are the color options. — Amalie
Honorable Mention: CUUP is having a 25% off swimwear event this weekend…so score yourself a top you can wear with a pair of bottoms you own. I'm a fan of this print and style, personally. — Amalie
fuller coverage:
What did we miss?