Discover more from mixed feelings
mixed feelings is a newsletter and obsessively-online community that deals in all things existential (and, in some cases, welcome respite from that). Subscribe, for all your multitudes.
targeting the caged ballerina in you
this made me think of you is mixed feelings' new audience-driven column dedicated to curating a digital window-shopping experience…just for you (selfishly). Respond to this email, dm us on Instagram, or comment below if there's something you'd like us to shop for.
I grew up doing ballet, (poorly). Yet, from the ages of 6 to 17, ballet gear was nothing but miserable lycra. The kind of stuff that made it really hard to have your period if you were afraid of tampons.
I'm older now, and though I haven't stepped foot on the vinyl floor of a dance studio for years, I have been increasingly drawn to "balletcore" — a trend that draws inspiration from ballet aesthetics.
It sounds like you are, too. So for our inaugural issue of this made me think of you, feast your eyes on all the ballet flats, tights, ribbons, and jewelry that made us think of…you 🎀.
Leg Warmers, $17.95. I don't think leg warmers coming back in style was on anyone's 2022/23 bingo card, but, like, even without the balletcore context, it just makes sense. Everyone is looking for ways to bring the coziness of lockdown life to the harshness of the outside world. And I pick balletcore over jazzercize-core any day. You can find leg warmers everywhere from Etsy to eBay (someone buy these questionable vintage YSLs), but go ahead and just buy some from a dancewear company — they're legit! — Catherine Mhloyi, social video @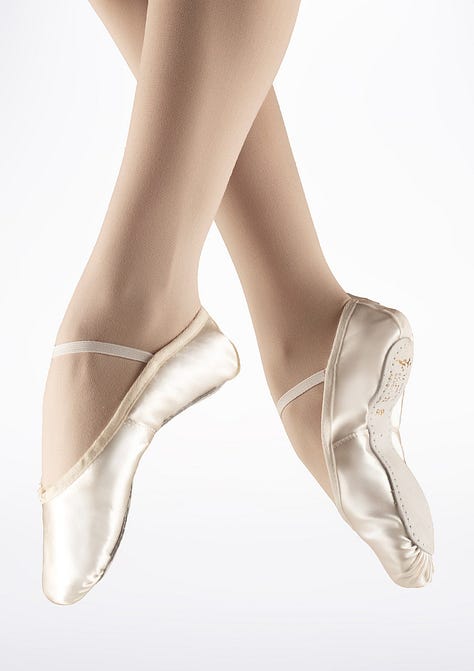 Satin Ballet Flats, $16.95. Here's a hack: Just buy satin ballet shoes from an actual dance store and go to your local cobbler and have them resoled. Miu Miu DUPE! — Mi-Anne Chan, editorial @
Knit "Ribbon" Airpod Max Covers, $46.43. I got these crochet AirPod Max covers in black/pink as a gift this year and all I can say is I felt seen, known, and heard. It's an instant upgrade to an item I wear (pretty much) every day. — Amalie MacGowan, editorial @
Shop Berriez x Shop Journal Plum Wine Tie Dye Tights, $44. Ballet tights — the light pink kind you wear for class — are really boring (sorry!). There are so many textures, patterns, and colors to choose from, like these from Shop Berriez x Shop Journal. Do you all think I can wear these to a wedding? I'm probably just going to do it. — Logan Tsugita, art @ mixed feelings
Sandy Liang Ballet Print Scoby Top, $230. This top has been pinned to my "fashion" Pinterest board for months. It's one of those pieces I can see wearing no matter how I'm feeling — paired with knee-high boots and a pleated mini or with super baggy carpenter pants and sneakers. — Mi-Anne
Five Fourty Nine Love At First Sight Choker, $42. I cannot tell a lie…I saw this necklace in an Instagram ad. But how lovely that it accurately targeted the caged ballerina in me with its delicate pink string and amorphous silver heart? Wear with a boatneck tee and some hand wraps. — Amalie
Arq Paloma Leo, $72. This is a bodysuit that doesn't ride up. Reread what I just said!! The cute little neckline and the soft color choices really give spring. I suggest wearing with a skirt (bc these are full coverage af!) or with low-rise, oversized denim. — Logan Tsugita, art @
Mohair Bolero, $69. I went on the hunt for an open-knit bolero and found this: perfect knit, perfect color, perfectly handmade. Shrug on over a bodysuit and pair it with a floor-length satin skirt.
Serpenti Apparel The Jolie Suit, $133. Imagine the Jolie suit with a cozy white shrug and white tights. The pale/nude palettes are a balletcore staple, but you should definitely add a pop of color with some platform shoes and a satin ribbon around your neck that you can tie into a choker. Want more dimension? Add an underbust corset or layer a sheer slip dress on top. — Catherine
KkCo Recital Utility Tote, $165. Now I know this isn't traditional "balletcore," even though it feels super on-the-nose, but something about this bag is scratching the ballet itch for me. Between the pierced bows and the black ruffles, it's a nice little mash-up of goth and gamine, (which is where I'd personally like to nest). — Amalie