Discover more from mixed feelings
mixed feelings is a newsletter and obsessively-online community that deals in all things existential (and, in some cases, welcome respite from that). Subscribe, for all your multitudes.
this made me think of you is mixed feelings' audience-driven column dedicated to curating a digital window-shopping experience. Respond to this email, dm us, or comment below if there's something you'd like us to shop for. This week, Amalie MacGowan shares their favorite ballet flats and how to style them.
Last week, I wore a pair of brown Mansur Gavriel ballet flats that I scored on sale for $200 a few years ago. Despite their simple appearance, I've never had so many people ask me questions about something on my person.
"So, tell me about these. Are ballet flats 'in' again? How are we wearing them? Should I invest?"
Yes, ballet flats — and "balletcore" in general — have been "in" for the past 3-4 years, reaching its cultural apex in probably 2022. But ballet flats can be closet staples. Much like anything that resonates with your personal style in a fundamental way, they have the potential to transcend "trend".
And here's the thing about ballet flats, specifically: They are extremely comfortable. Extremely wearable. Explicitly feminine without being aggressively so. I also particularly love when they have been worn into submission and have stories to tell, like Amy Winehouse's.
So, with that, I present you with many more-or-less affordable options and a range of ways *I* would style them. Happy pirouetting. — Amalie MacGowan, editorial director at
traditional balletcore
Jeffrey Campbell Aurora Flats. A satin ballet flat is about as close to the actual dancer's shoe as it gets.
J Crew Flats. Mansur Gavriel dupe! With a higher vamp, full leather outers and great neutral colorways, it's the perfect tailored style.
High-Quality Repetto Resales. Repetto makes great quality ballet flats. They are pricey, just like Mansur, but if you find a good quality pair in a color and size you need on sites like The RealReal or Vestiaire Collective, they're worth adding to cart.
Charles & Keith Mary Janes. I love this pair above as a variation on the classic ballet flat (yes, a Mary Jane!), but am also really partial to this pair.
Margaux 'The Demi'. While definitely not on the "affordable" side of the spectrum, this pair comes in beautiful, wearable colors, and feature a solidly medium width for a wider foot (like mine) in quality leather.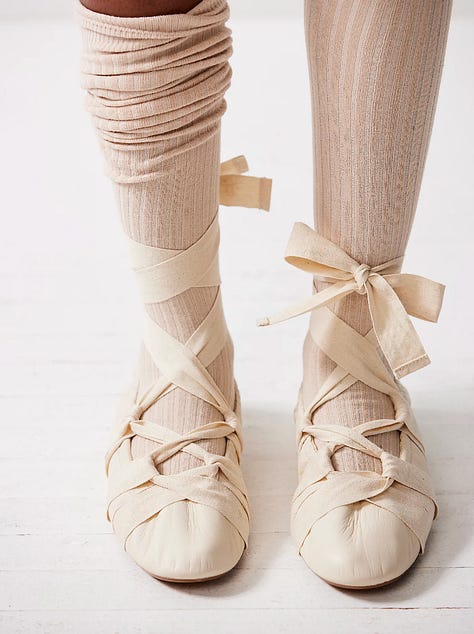 unique balletcore
FP Collection Wrap Flats. I realllllyyy love these. They do give "I do actual ballet," which could piss off the dancer in your life, but who cares. Lace up.
Rothy's Ballet Flat. Made of knit plastic bottles (I don't get it but we don't have to!), tuck these in your bag and slip them on when your Kiki's won't hack it on the train platform. 
Crystal-Embellished Etsy Flats. Whoop whoop, Alaia dupe! These really step up the ballet flat game with their crystal embellishments.
Anthropologie Pilcro Flats. Personally I love the snakeskin version of these and the almost "paper bag" look to them.
Camper Collapsible Flat. I love a shoe that can do both. These have heels that lower so you can wear them as a flat AND a slide/mule. Chic.