Discover more from mixed feelings
mixed feelings is a newsletter and obsessively-online community that deals in all things existential (and, in some cases, welcome respite from that). Subscribe, for all your multitudes.
introducing...the mixed feelings x FEAST Talking Hearts Collection
enter our universe
dear mfers,
If I were to liken mixed feelings' journey thus far to the hero's journey, I'd say we are on the precipice of "the abyss": smack dab in the center of our story, all steps leading up to this moment of challenge.
We confronted the first boss — our hard launch — and now it's time to realize the second phase: ripping mixed feelings from your screens into the tangible universe.
But not without a supernatural guide. FEAST, a sexual wellness platform dedicated to conversation and education around sex, found us just in time to facilitate a melding of minds. We channeled our crippling social anxiety into the Talking Hearts collection — the apotheosis of 8 months of ideation, development, samples, and now, birth.
Together with FEAST we created a conversation game, a barbed-wire "purefuckery" necklace, and a sexy lil' tattoo sheet. Check out the collection below and stick around for a little behind-the-scenes of the last 8 months.
Shop the full collection now at FEAST. — xoxo, Mi-Anne
Talking Hearts Interactive Conversation Game, $32. This conversation game is perfect for old friends, new lovers, or even some introspective me-time. Dish about the past and look into your future. Figure out who you are, and say it. The heart-shaped 8-ball features a 20-sided dice containing a host of thought-provoking questions written by the mixed feelings and FEAST teams.
PureFuckery 18k White-Gold Plated Necklace, $42. This statement necklace, lovingly designed by mixed feelings' art director Logan Tsugita, is the sartorial manifestation of our partnership. It's made of stainless steel and 18k white gold plating. It's waterproof, anti-tarnish, and hyper-allergenic. Style it solo over your favorite band-tee or layer it with mixed metals.
Afraid Of Commitment Temporary Tattoos, $8. Everything is temporary — including these tattoos. We put together a collection of illustrations that perfectly encapsulate our collaboration — soft, sexy, emotional. Sure to look cute on your face, hands, lower back, or wherever else you feel inspired to decorate your body.
The collection is also available as a bundle ($72).
To celebrate all the sweat and tears that went into this, an abridged timeline of the collection's creation:
November 2022: The email that started it all. (The synergy!!!)
December 2022: A giant dump of all the words and phrases we could have possibly turned into a barbed-wire necklace.
January 2023: I sent Logan this absolutely disgusting drawing of "purefuckery." Logan improved upon it (if that isn't abundantly obvious from this side-by-side.)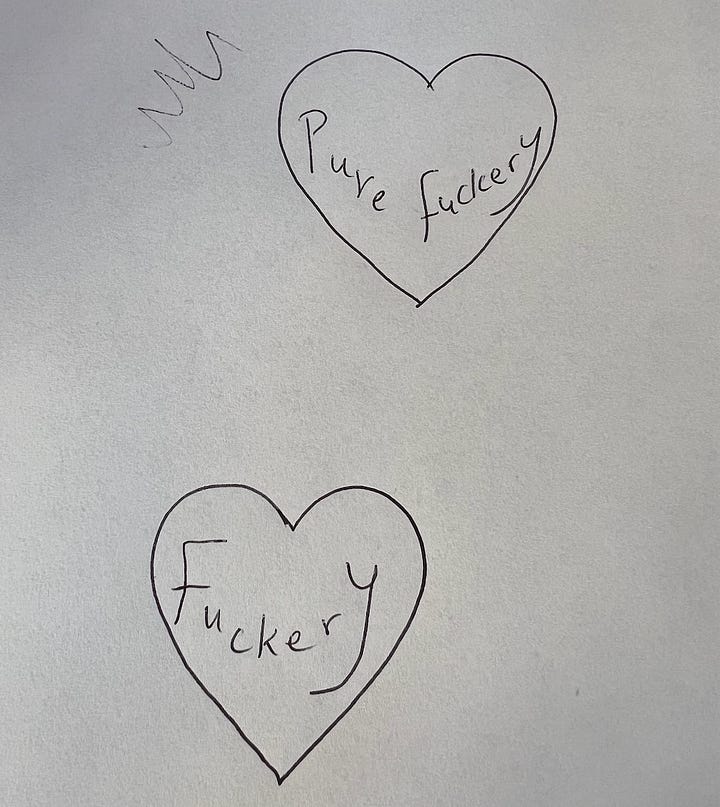 February 2023: Logan tried many versions of the conversation game. This one didn't make the cut but it's too pretty not to share.
June 2023: Co-founder of FEAST Amanda Marmer worked her magic and created our first digital mock up.
September 2023: The FEAST team sent the first sample!!! We made everyone in the office play 😈.
October 2023: After much inquiry, we found a studio in Brooklyn that let us use a fog machine to bring our "hell in space" creative concept to life. The dress code? "Angels fighting against their true nature in hell."
We had so much fun creating this collection. I hope you have fun playing with it 💔.
mixed feelings x FEAST Talking Hearts Collection, available now at FEAST.
Director of Photography:
Mar Alfonso
Gaffer:
S Tricker
Producer:
Karen Sepulveda
Producer:
Mary McGowan
Production Coordinator:
John Clubb
Production Manager
: Adam Preyer
Creative Director & Founding Editor:
Mi-Anne Chan
Art Director:
Logan Tsugita
Editorial Director:
Amalie MacGowan
Associate Manager of Development:
Catherine Mhloyi
Associate Manager of Development:
Ali Farooqui
Social Media Manager:
Sam Speedy